Aircraft Data Sheet: EH101 (1987)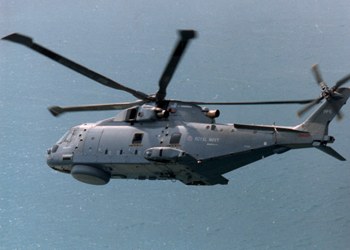 First flight:
9th October 1987
Rotor diameter:
18.59m/61ft 0ins
Length:
22.81m/74ft 10ins
Max weight:
4,288kg/31,500lb
Max speed:
309kph/167knots
Power:
Three 1,682shp/1,254kW
General Electric T700-GE-401
turboshafts (Military)
or Three 1,920shp/1,432kW
General Electric CT7-6
turboshafts (Civil)
Three 2,100shp/1,565kW
Rolls Royce/ Turbomeca
RTM-322 turboshafts
Accommodation:
Two crew and 30 passengers (Civil).
No Built:
Nine prototypes of various configurations.
In 1977 after various studies the MoD (Navy) placed the requirement for an ASW helicopter to replace the Sea king. Westland submitted their WG.34 project, which was then selected for development. At the same time the Italian Navy (MMI) needed to replace its Sikorsky ASH-3D, which had been licence built by Agusta helicopter division. Inter company discussions took place during 1980, after which Westland and Agusta then formed the company European Helicopter Industries (EHI). This newly formed company was specifically formed to produce the EH101. Comprehensive developments and market research were carried out, from this research the results showed a demand for Medium sized commercial helicopter both for civil and military purposes. Nine pre-production aircraft's were produced to complete the 4,000 hour development programme. The first four pre-production prototypes PP1-PP4 were used in the flight - test programme for the basic development. Prototypes PP5 and PP6 were for the development of the British and Italian naval variants, PP7 for development of the ramp rear door version. PP8 and PP9 were for development trails for the utility and civil variants.

In 1984 the British and Italian governments signed the agreement, which provided joint funding for the development straight through to the production stage. This programme was to be a joint work share undertaken by both Westland and Agusta. In 1991 the UK's MoD ordered 44 ASW versions, known as the Merlin HM Mk I. A further 22 aircraft of the Utility variants were ordered for the Royal Air Force, known as Merlin HC Mk3. The EH101 reached a significant milestone in 1994 when civil certification for 30 seat transport and ramp rear door variants were granted.