Aircraft Data Sheet: Lynx 3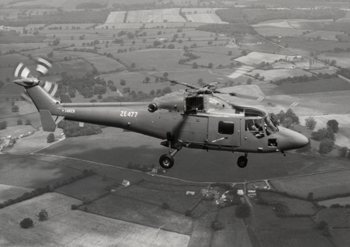 First flight:
14th June 1984
Rotor diameter:
12.8m/42ft 0ins
Length:
15.47m/50ft 9ins
Max weight:
5454kg/12,000lb
Max speed:
259kph/135knots
Power:
Two 1,260shp/939kW
Rolls Royce Gem 60-3 turboshafts
Accommodation:
2 crew plus ten troops.
No Built:
1 prototype only
The Lynx 3 was essentially a Lynx derivative designed to extend the capability of the basic Lynx and also to offer a response to the Franco-German requirement for a Combat helicopter (PAH-2). There were also proposals and design studies to offer a maritime version.

The project came about at a time when military thinking concerning the role of Attack helicopters and battlefield support was confused.

In the event the Franco-German requirement changed, and it became clear that the UK forces had no interest in an aircraft of the proposed configuration. A single prototype was built and flown but the project was abandoned when it became clear that UK interest was not forthcoming.