Aircraft Data Sheet: Welkin (1942)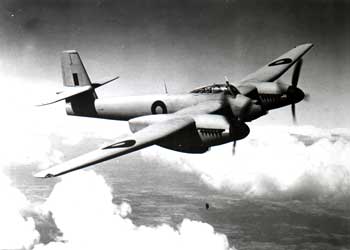 | | |
| --- | --- |
| First flight: | 1st November 1942 |
| Span: | 21.34m/70ft 0ins. |
| Length: | 12.67m/41ft 7ins |
| Max weight: | 4,658kg/10,270lb |
| Max level speed: | 336knots/663kph |
| Power plant: | Two 1,250shp/932kW Rolls-Royce Merlin 72/73 or 76/77 |
| Total built: | 77 |
As the war progressed, attacks from high altitude bombers became a major problem. To combat this Specification F 4/40 was drawn up calling for a suitable fighter, capable of operating above 40,000ft.
In order to achieve this it was necessary to introduce cabin pressurisation and to design a large twin engined aircraft with the fuel and handling qualities for prolonged operation at high altitude. In the event the threat never developed and the Welkin only achieved limited production.
However, the work did result in Westland becoming a design authority on cabin systems and led directly to the foundation of Normalair as a subsidiary company wholly concerned with cabin conditioning.