Aircraft Data Sheet: Whirlwind (1938)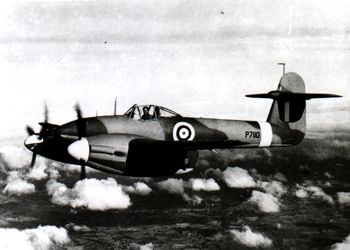 First flight:
11th October 1938
Span:
13.72m/45ft 0ins.
Length:
9.98m/32ft 9ins
Max weight:
4,697kg/10,356lb
Max level speed:
313knots/579kph
Power plant:
Tow 885shp/660kW
Rolls-Royce Peregrine l
Total built:
116
With the approach of war the Air Ministry identified a need for a long-range twin engined fighter against the possibility that the main air battle would be fought in Europe. Westland responded with the Whirlwind a small very fast twin engined fighter with formidable armament, four 20mm cannon mounted in a close group of four in the nose.
The resultant aircraft proved to be very fast and manoeuvrable, matching and in some areas exceeding that of the Spitfire. As events transpired, the fall of France meant that the air battle was to be fought over Britain, and the need for an aircraft such as the Whirlwind, not only receded but would be a drain on engine resources. Further to this the Peregrine engine was at an early stage of development, and the introduction of the larger Merlin would not have been practical.
The programme continued with lower priority and the Whirlwind achieved limited production as a fighter-bomber.